We're Hiring!
Come work at a place that is world famous! Working at the San Diego Zoo or San Diego Zoo Safari Park is a fun and rewarding experience—and job openings are available now. Want to make magical memories for millions of guests AND help save wildlife around the world at the same time? Apply here!
If you are looking for a job that is active and engaging—at a place that's truly like no other, where you can make a difference for wildlife every day—then we are looking for you. See below for open positions, and details on our fabulous perks for all employees!
We have hundreds of job openings at the Zoo and the Safari Park, in areas like:
Catering
Food Service
Merchandise Retail
Park Operations
Guest Services
Security
Facilities/Buildings and Grounds

We are looking for candidates who are:
Friendly individuals with excellent communication skills
Able to work in a fast-paced environment
Comfortable working indoors and outdoors in all weather conditions
Able to work in a diverse team environment
Flexible with their schedules
At least 16 years of age.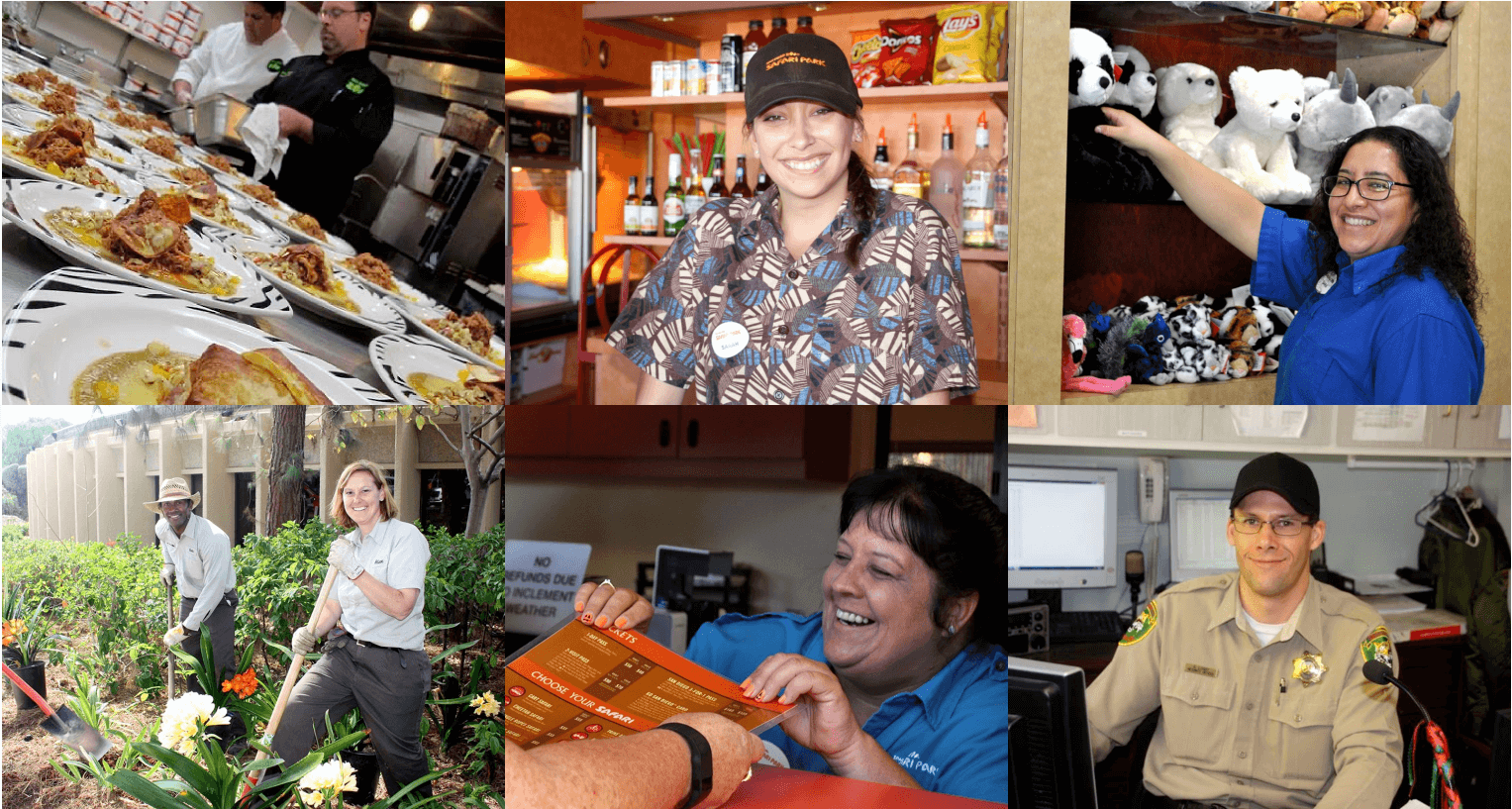 And don't forget about the perks and discounts! Employees receive:
Free admission to the San Diego Zoo and San Diego Zoo Safari Park
Family passes and complimentary tickets
In-house discounts on merchandise and dining
Free employee parking
Work on grounds, with our amazing wildlife!
A Warning about Recruitment Scams
Thank you for your interest in San Diego Zoo Wildlife Alliance
We're excited you're considering joining San Diego Zoo Wildlife Alliance, a conservation organization with two front doors, the San Diego Zoo and the San Diego Zoo Safari Park!  To help make your job search journey a success, we want make you aware of recent recruitment scams in which fraudsters pretend to represent prominent organizations and companies.
Unsuspecting applicants may be invited to participate in bogus interviews, asked to fill out fabricated employment applications and, on occasion, have even been issued fake offer letters, all with the ultimate goal of trying to entice victims to pay money or divulge sensitive personal information.
SDZWA posts all jobs directly on our careers page. If you come across a posting on another website that is not also posted here, the likelihood is that it is a fraudulent job posting. You may contact us directly to confirm via email at sdzwacareers@sdzwa.org
Please be aware of the points below as you progress in your job search.
Communications
Unsolicited communications from an individual or websites with which you are unfamiliar, or whose domain name is inconsistent with the actual business.
Correspondence from free e-mail accounts like Yahoo, Hotmail or Gmail.  Our recruiters may initiate communication with candidates via phone, or email, however, team members will not solicit candidates through a non San Diego Zoo Wildlife Alliance e-mail address or phone numbers.
Communications that do not include information about a specific job opening (or the job description is vague) and/or extend a job offer without an interview.
Unsolicited communication where the recruiter claims to have seen your resume on a site with which you are not familiar.
Communications at the application phase requesting sensitive personal data or

information, date of birth, social security number, bank account information, passport information or any number appearing on identity documents.